Only registered Kodeco accounts can message on our Discord server, find out how to set up your account to send messages here.
In Only Kodeco registered accounts (both free members and those with paid memberships) are able to message on our Discord forum. This enables us to keep spam messages on these platforms low and maintain high value conversations on our community.

Once you have registered your account with Kodeco, you can open our Discord server by clicking our link here: https://discord.gg/ZTUmDxX

This will take you through the prompts to register a Discord account, which must be with the same email address as your Kodeco account.
Linking your account through the kodebot private message:
Once you create or log into your Discord account that matches your Kodeco registered email, you will be sent a message by our kodebot that looks like this: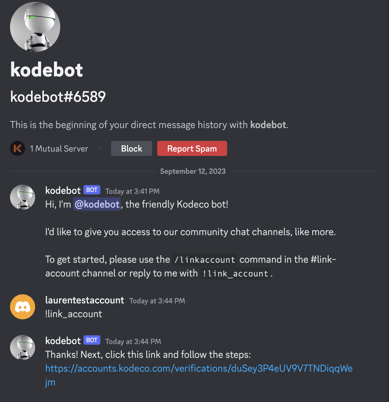 You can either choose to follow the directions outlined by the bot via private message, like above, through typing (not copying and pasting): !link_account

This will trigger the bot to send you the correct URL to complete the linking of your account.
Linking your account through the #lobby-start-here channel:
Alternatively, you can link your account on the Discord Kodeco server itself by going to the #lobby-start-here channel and typing in (do not copy and paste) this text: /linkaccount

If you do not see the onboarding messaging, check to make sure you do not have any extra spaces in the /linkaccount messaging, that you are messaging in the #lobby-start-here channel, and that you are not copying the /linkaccount message into the channel.

When successful, this is what your welcome message will look like in the #lobby-start-here channel:


Completing your linked account actions
Once you click on the link provided by either of the above methods, you will be taken to a page hosted on Kodeco that will request you to click on a button to verify your account. Once verified, you will be directed back to the Discord channel and you will be able to message in all channels.

Have any questions? Message the team at support@kodeco.com for us to answer them 😁