Here's how to format your invoice and what to include to grab your Sketch discount.
There are two steps you'll need to complete in order to grab the Member Discount for Sketch organized for our subscribers. Only current Kodeco annual subscribers will be able to unlock this discount.
1. Format your invoice to highlight your account details.
Sketch requires that specific details are reflected on your invoice before they will accept it as proof of payment. Please add the following details on your Invoice before moving on to the next step:
Firstname Lastname | emailaddress@inbox.com
123 Street Address
City
State, Country ZIPCODE
So that your details are displayed on your latest invoice like this:
2. Screenshot or download the edited invoice
Take a print screen image or download the PDF of the invoice once you've edited it to save to your desktop.
To do this, follow the steps in this video:
3. Take a screenshot or print screen image of your Billing tab
The final step for documenting your Kodeco membership to grab that Sketch discount, visit your Billing tab here and take a screenshot of the billing details with your username and email address visible in the left-hand sidebar. The screenshot must include all of the following details: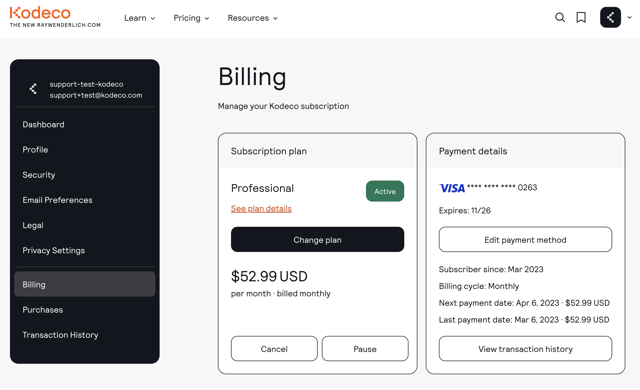 You are now ready to apply for the Sketch discount! Apply by following the directions on our Member Discounts page here or email the team at support@kodeco.com for more help.