Make sure you're only receiving the alerts you want to your inbox on newsletters, promotions, or book chapters.
We offer several regular emails depending on what you'd like to hear news on, and the settings for these emails are all available directly in your account dashboard. To set your communication preferences, visit this page once you're logged into your account, and select or deselect the email subscriptions you'd prefer: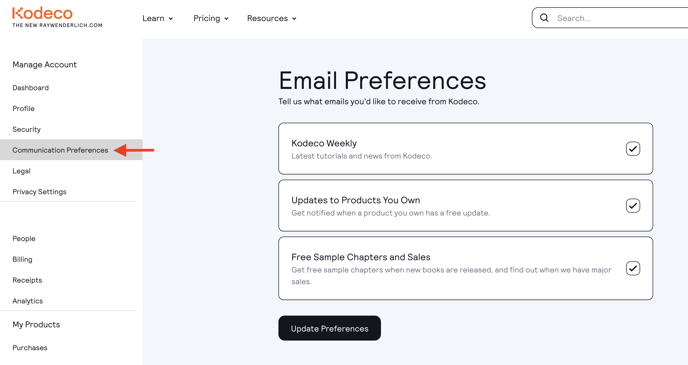 For a little more on what to expect with each subscription option:
Kodeco Weekly: This is our weekly outreach highlighting specific tutorials we think you'll enjoy and a fun note from the team on what's been happening that week.
Updates to Products You Own: If you've purchased a book individually in the past, subscribing to these will let you know when a new version has been released and has been automatically added to your account to check out.
Free Sample Chapters and Sales: Whenever a new book is released, we might send out a sneaky peak at what's inside just in case you're interested in purchasing. This email list is also for hearing about other promotions, such as our Spring Sale and Black Friday Sale, including any other price drop events in between.
If you're a subscriber, you'll be sent alerts specific to your experience on the site, and these preferences can be controlled directly in the footer of your emails. On any email, click the 'email preferences' hyperlink there at the bottom of the alert, and select for any alerts you'd like to receive (or not) as appropriate, like here:
If you continue to receive alerts more than 24 hours after you have updated your preferences, please reach out to us at support@kodeco.com so that we can look into what might be going on.