While some of our Forum spaces welcome open posting, some sections only allow focused content
You may have noticed that, as you work through some sections of our Forum, you're seeing the 'New Topic' button at the top greyed out in some sections, like here: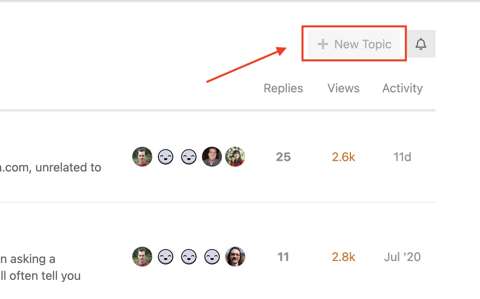 While others do have the option to post new topics. The answer is in how we have set up the space to allow for focused learning:
Each section of our Forum is created to focus on a specific type of learning. Most spaces are created with pre-made threads to start the conversation so that we can organize and direct conversation in a way that helps others access your posts and interact with them.
Within these threads, you'll have the option to post or interact with other members of the community.
On other Forum communities, such as dedicated Forums for specific books or tutorials, you'll have the option to create a new topic however you'd like. To access these communities easily, just search for the tutorial you're following. If you're already learning from a book or video, how to find your form depends:
For a Video Forum: Under any video, you'll see a 'Comment' tab that, once you click on, will show a 'Start Discussion' button. Clicking here will take you to that tutorial Forum to post your question.
For a Book Forum: In each article or book, there will be a 'Getting Started' section at the very start of the material. There will be a Forum link to direct you to that space to continue the discussion.
There are also general Forum spaces for open postings, such as 'Off Topic', where all topics are welcome.
In case you feel you're not able to post a topic in a space you should be able to, though, please get in touch with support@kodeco.com so we can help sort you out 🙂
For those who have been on the Forum for less than 3 days, you may have automatic posting restrictions to help our system prevent spam. If you feel this should be lifted please send us a message so we can consider upgrading your status earlier!